Bring the number bonds fun to your classroom with our amazing range of Number bonds of 10 worksheets that will help your children excel in their maths and learn their number bonds in a fun way. Start your learning journey with our beautifully illustrated worksheets that will surely keep your children engaged while having plenty of fun.
Related: Free Addition Worksheets Year 1
Free Number bonds of 10 worksheets
Let your children learn the number bonds with our amazing free worksheets. Teachers can use them in class or can give them as their homework tasks. The worksheets can also be laminated so that they can be used over and over again.
To download simply click the image and download the PDF file.
Rainbow of 10:
A visual worksheet that will strengthen the knowledge of number bonds and keep children engaged.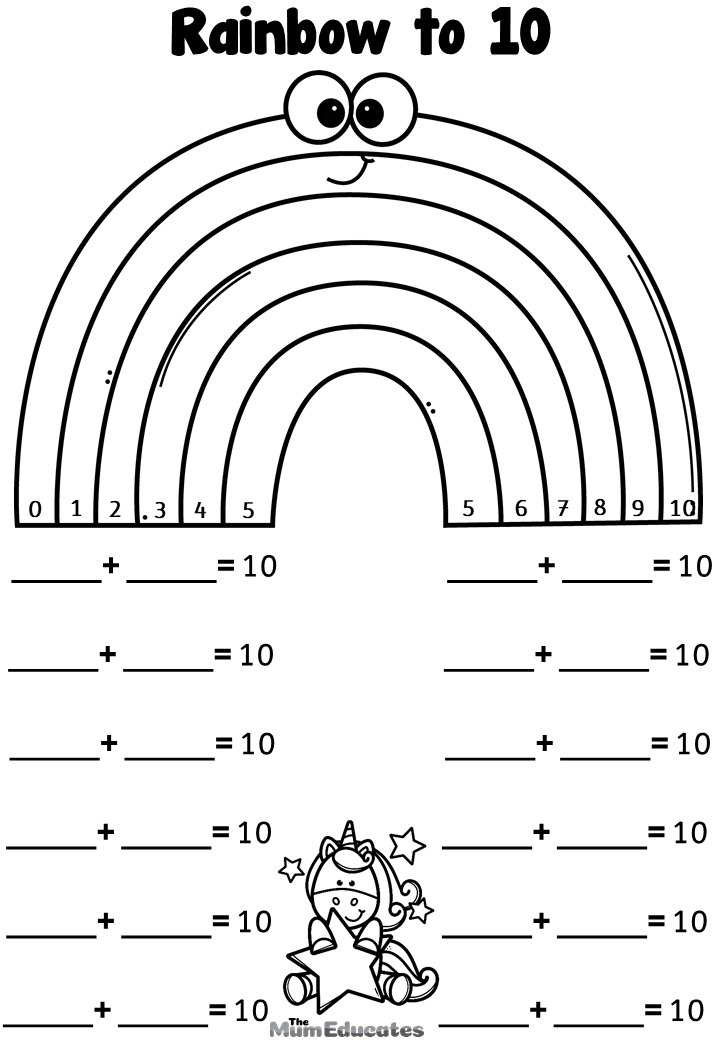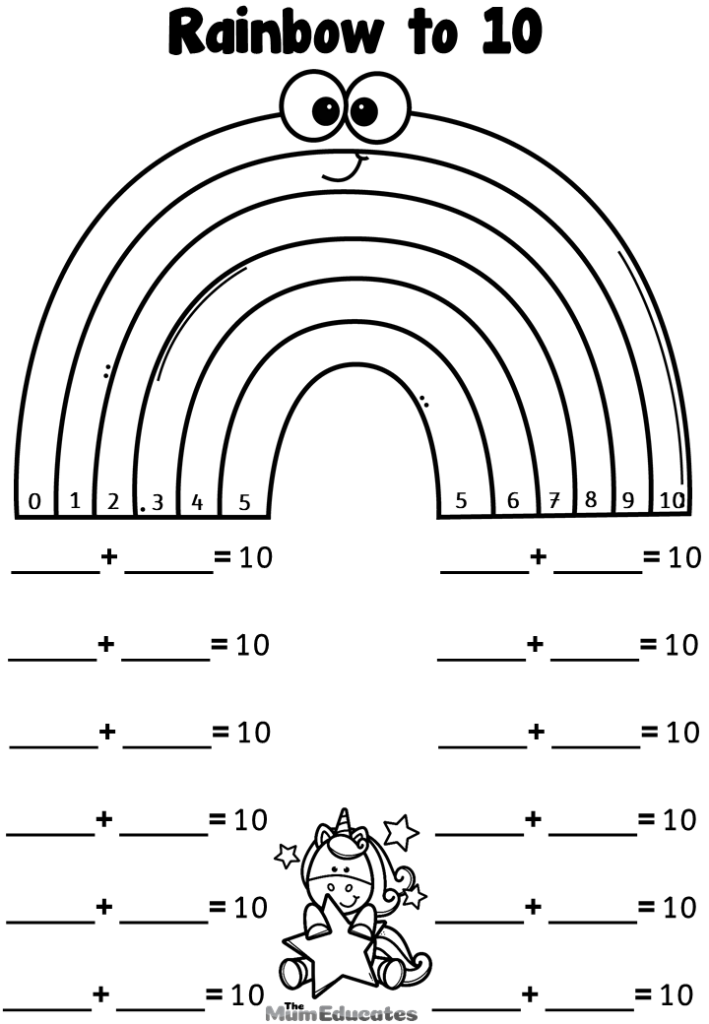 Number bonds of 10 Ten Frame
The lovely activity is great to support young children in their understanding of the number bonds of ten. It can also be used to assess the child's understanding of number bonds.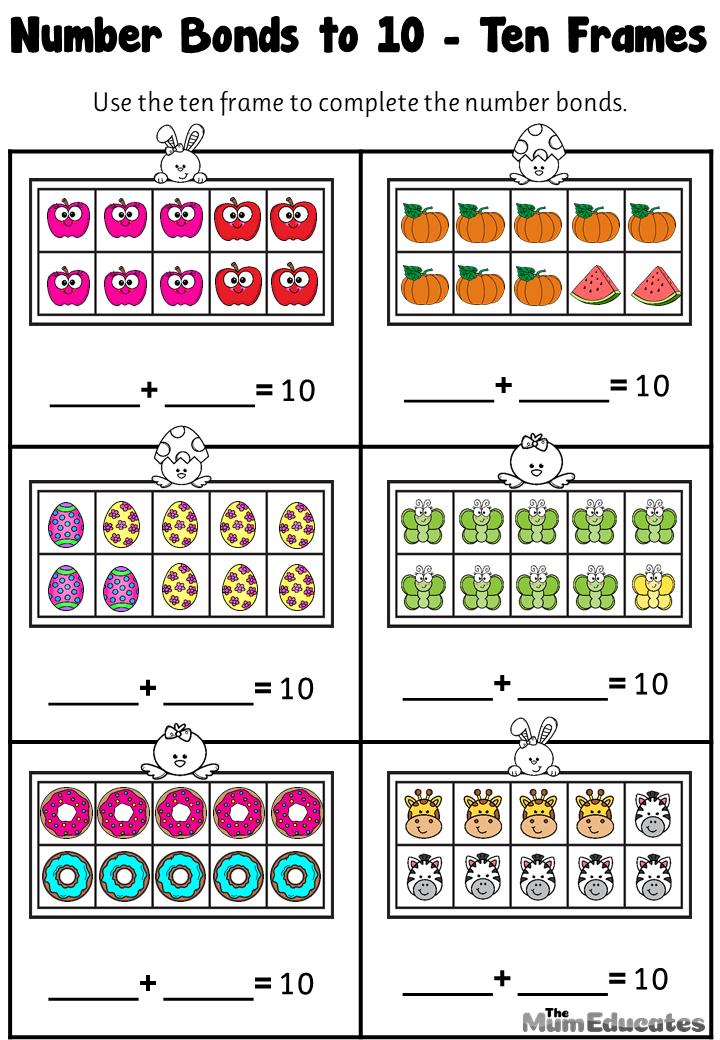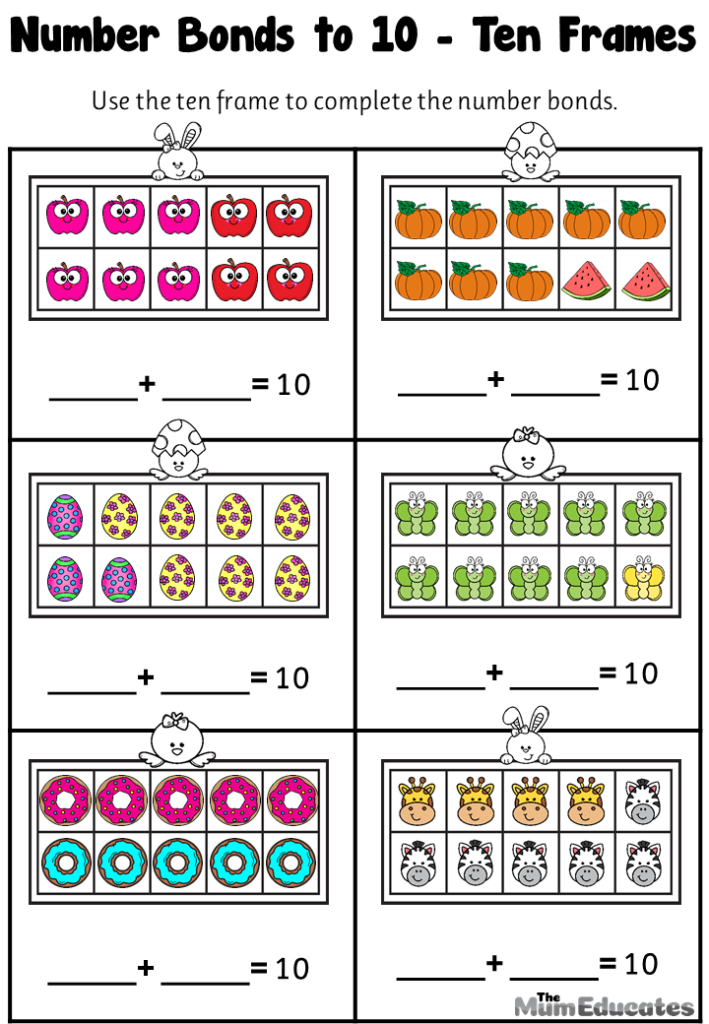 Number bonds of 10 – Missing numbers
The beautiful cactus theme worksheet is perfect to consolidate the children learning and give them the good practice of their number bonds. The children need to recall their number bonds and fill in the missing spaces to make 10.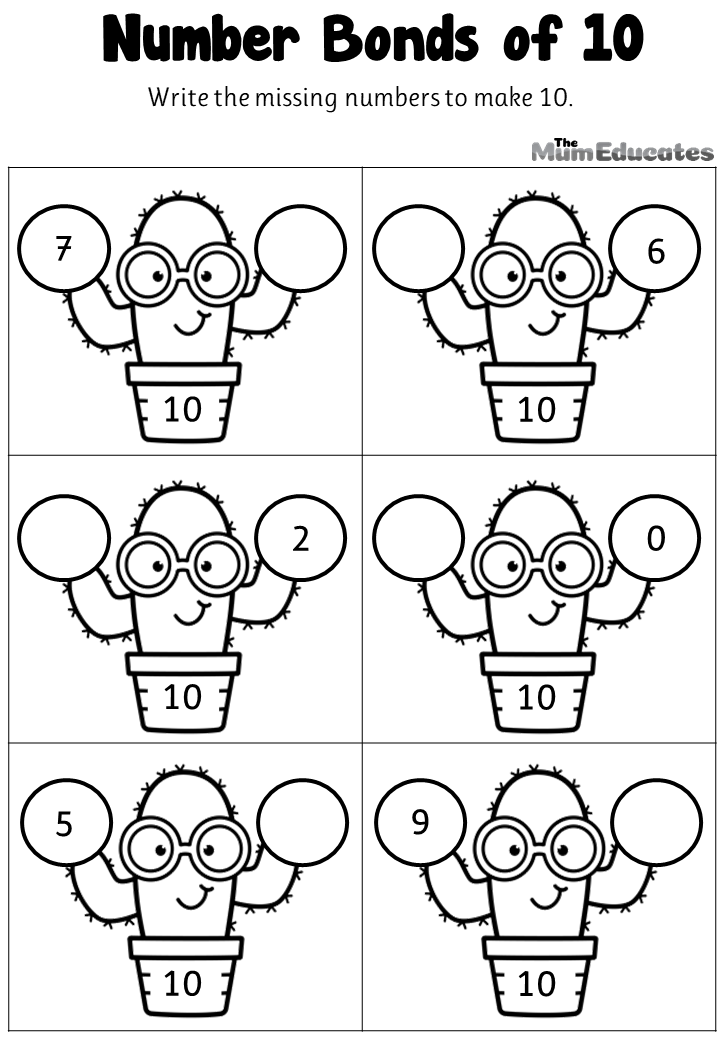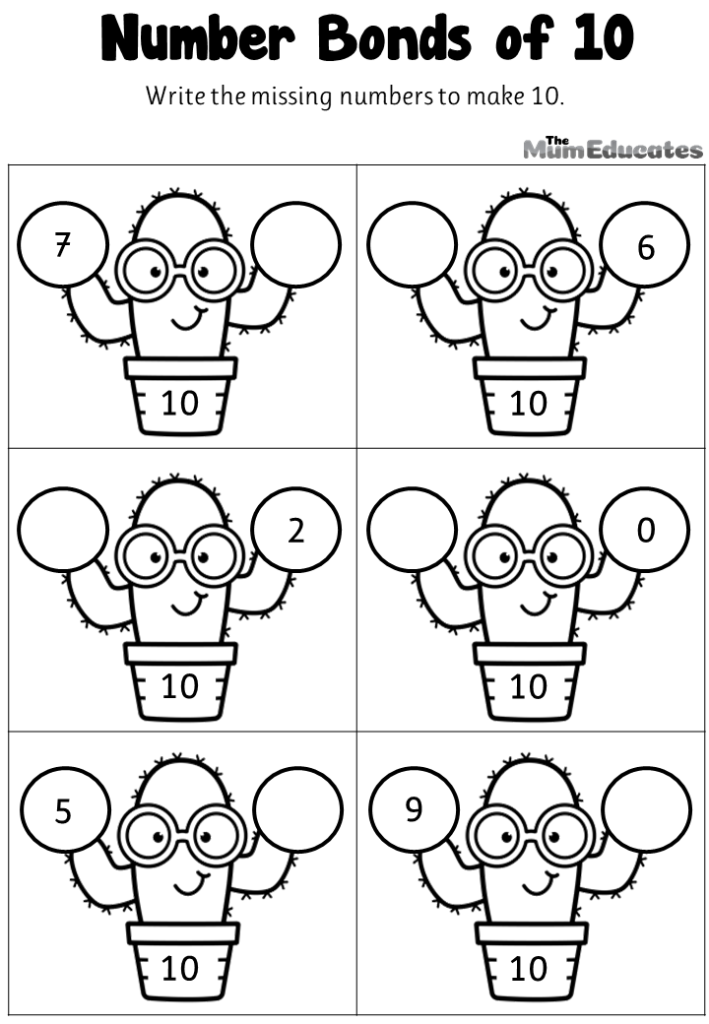 Narwhals Number bonds of 10
A lovely activity that can be done alone or in a small group. The child needs to identify the number bonds, match them and colour the narwhals to finish the activity. This sheet not only consolidates number bonds but will also sharpen the child's fine motor skills.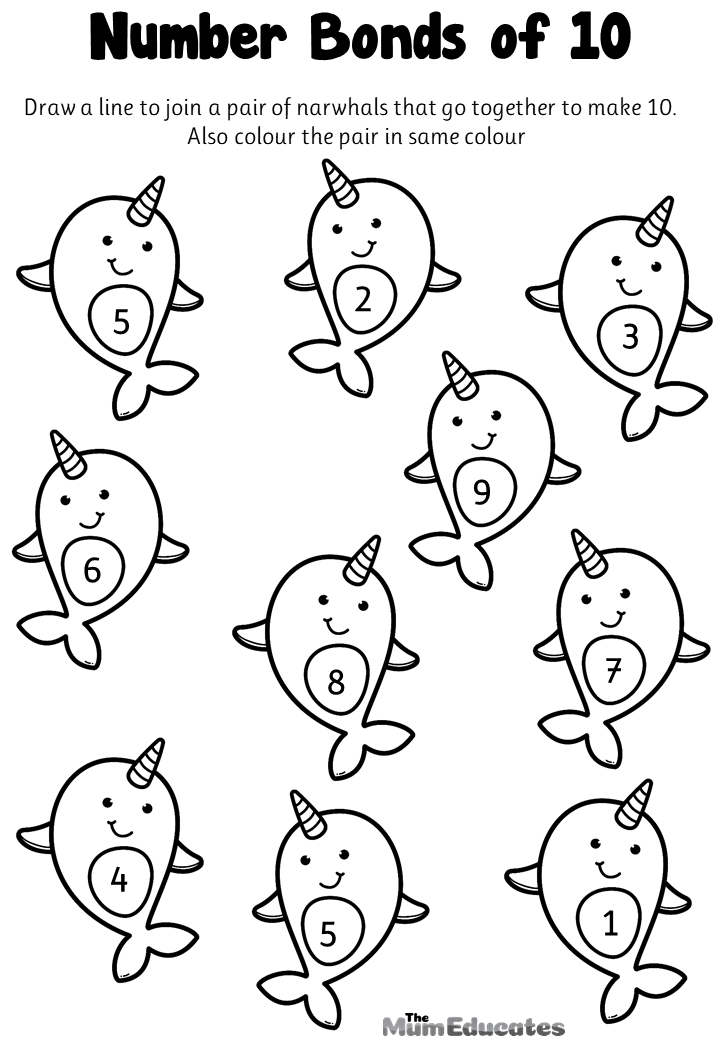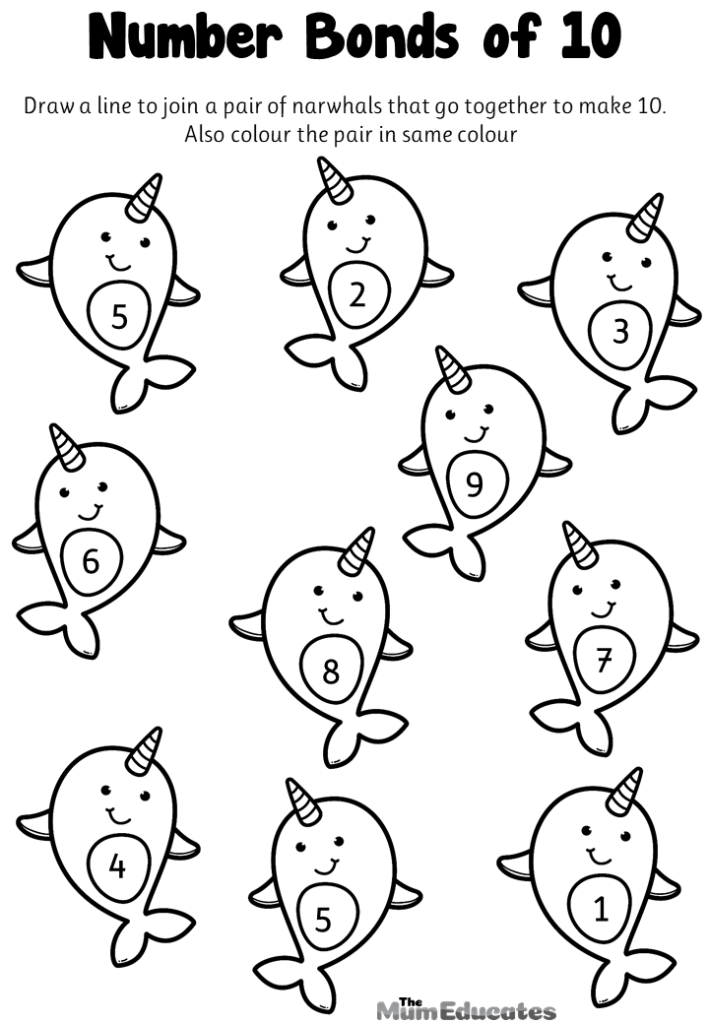 Number bonds of 10 Part whole model using pictorial representations
Let children experience the number bonds using pictorial representations so feel confident and learn visually. The kids will count the dots and then finish the part-whole model to make 10. Once children finish their work they can colour the beautiful pictures on the sheet.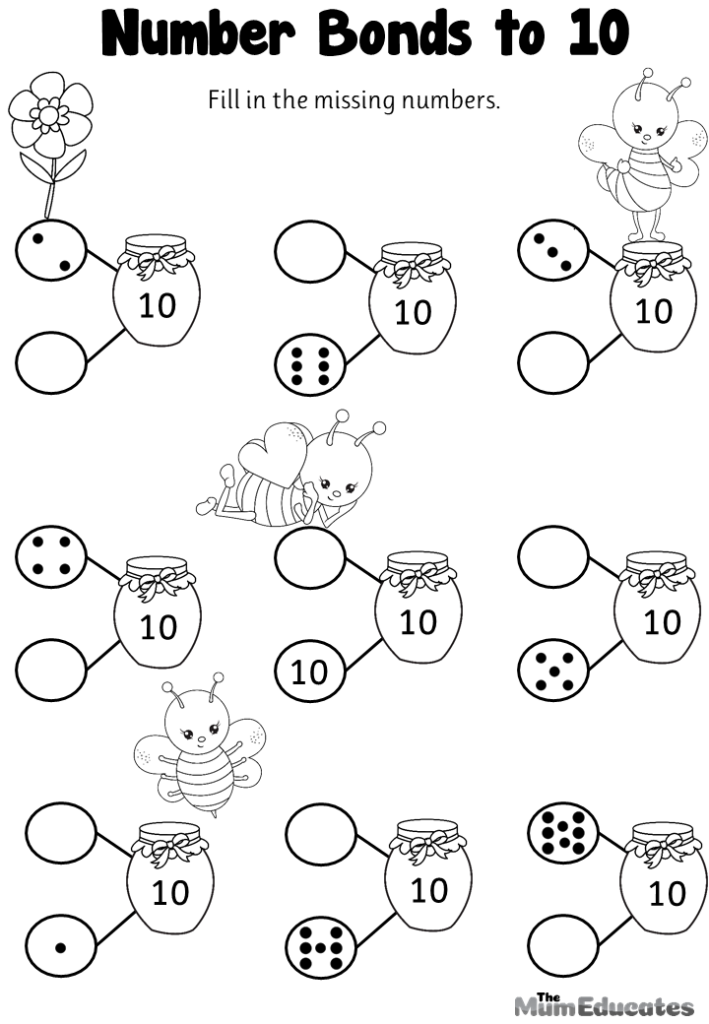 What are Number Bonds?
Number bonds to 10 are just two numbers that add together to make 10. They are also known as addition facts, fact families and many other names. There are only 5 pairs of numbers in number bonds of 10.
The numbers included are:
1 and 9
2 and 8
3 and 7
4 and 6
5 and 5
How can I help my child to understand number bonds?
Our wonderful worksheets will help consolidate the number bonds to 10  while providing support to the children so that they can practice the facts. The beautiful illustration will keep children engaged and excited. Once children finish their work they can then colour in the pictures to display their work in the classroom.
Why are number bonds important?
As well all know addition and subtraction are the backbones of Mathematics. If children are good in their addition and subtraction then they are good in all aspects of maths. Number bonds help children to develop a strong foundation of addition and subtraction. Once they know the number bonds to 10, they can work out other complex arithmetic problems quickly and efficiently.
Once children mastered number bonds to 10 they are introduced to number bonds to 20 which helps them massively in the latter stages of their learning.
Please read the terms of use and credits given below. Thanks to prettygraffik , scrapping doodle, rainbow sprinkle studio and teaching happy hearts for their amazing clipart.