Hi mums, hope you guys are well and making a positive impact on your child learning. Today I am going to share my review on a wonderful educational toy that is really cheap yet very effective. To be honest, in past 6 years, I bought like 5 to 6 time teaching clocks to my children spending a significant amount. Unfortunately, all the money went down the drain as children did not find it attractive and I got no results at all.
A few weeks back when in school my son who is in reception started learning the topic of Telling Time, I head over to Argos to find something that can help him a little more to understand this tricky topic. That's the day when I found this True Gem. It not only helped my little son but also by a daughter who is currently in year 3.
The clock is well made with a beautiful red apple shape. The clock features a bee button, a quiz button and the moving minute hand and hour hand. The bee button tells you the time that is on the clock with this functionality my son learned o clock and half-past in no time. My son repeat the time as he hears the clock telling him time. The toy is brilliant at stimulating your child's brain and practising numbers.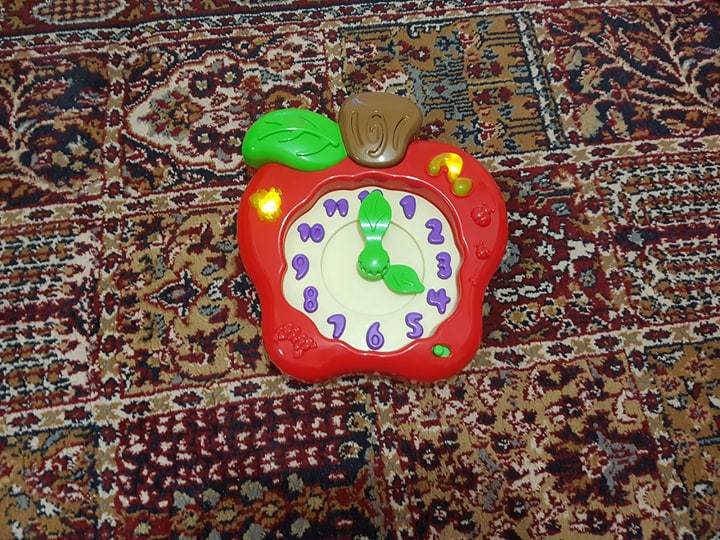 The quiz button is just superb as it tests children knowledge. As the child presses the quiz button it asks children to tell the specific number. I turn the clock on quiz mode and give it to my daughter every night as she practices her time telling skills.
In the end, I loved this clock and highly recommend you to buy this. It is well worth every penny and your child will surely gain time telling knowledge with it.
Learning goal: MATHS: Telling time
Targeted age:  4 years and over
Retail price: £10.99
OFFER Available:  2 for £15 on selected toys at Argos
Where to buy: ARGOS