Long awaited summer holidays are starting in a few days. While kids are super excited and looking forward to holidays, parents will be facing the challenge to keep kids busy in the whole 6 weeks time.
To make your summer holidays fun and enjoyable, have a look at our 50 indoor and outdoor activities for kids that will keep them entertained. Download free Summer Activity List by clicking here. Am I missing something? Let me know in the comments below.
Also, check: Fun Summer Holidays Spelling Activities for KS1 Kids
50 Fun Summer Holidays Activities:
1. Go for fruit and vegetable picking: The season for strawberries, raspberries and gooseberries and cherries are finally here. Visit a local farm to enjoy some fresh fruits and vegetables.
2. Visit your local library: Visit your favourite library to read a new and exciting book. Also, During summer holidays libraries run many free activities. Book your favourite activities quickly as they get fully booked very quickly.
3. Visit a museum: Museums host plenty of free activities in the summer holidays. Visit the museum website before the visit to take advantage of all the wonderful things it offers.
4. See a firework display: See the night sky light up with beautiful colours and interesting shapes. Fireworks are cherished by both kids and adults.
5. Decorate back garden with chalk: Get your big colourful chalks and start drawing.
6. Learn swimming: Book free swimming lessons at Swim Safe. let your child learn how to stay safe in and around open water.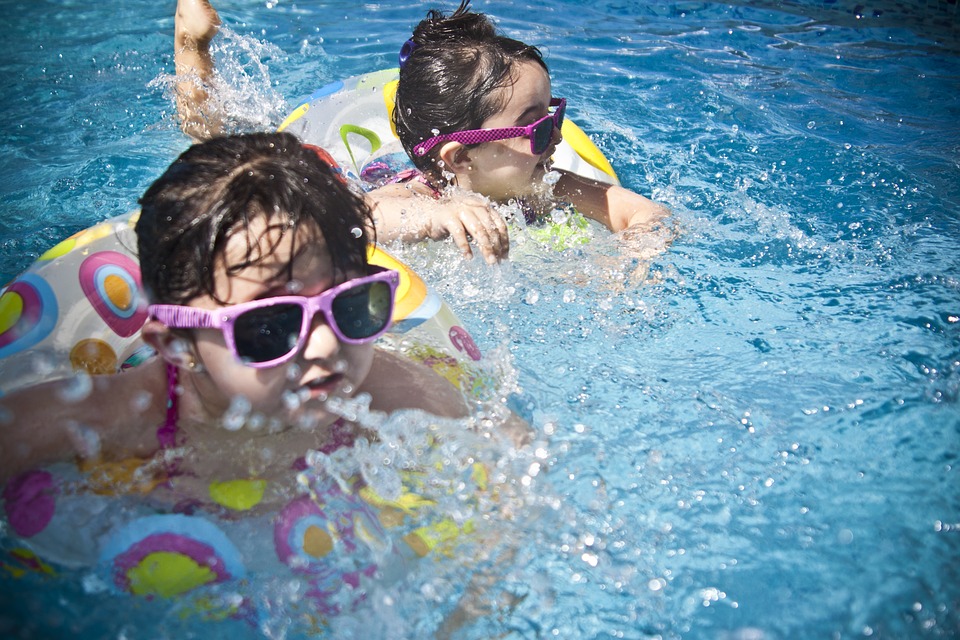 7. Watch a movie: Kids will never get bored with big screens. Take them to watch a movie at ODEAN, VUE or Cineworld with prices as low £2.49
8. Blow bubbles: Kids just love bubbles. They love to blow them, they love to chase bubbles and even love to pop them. Why not make your own bubbles with washing up liquid? Start blowing…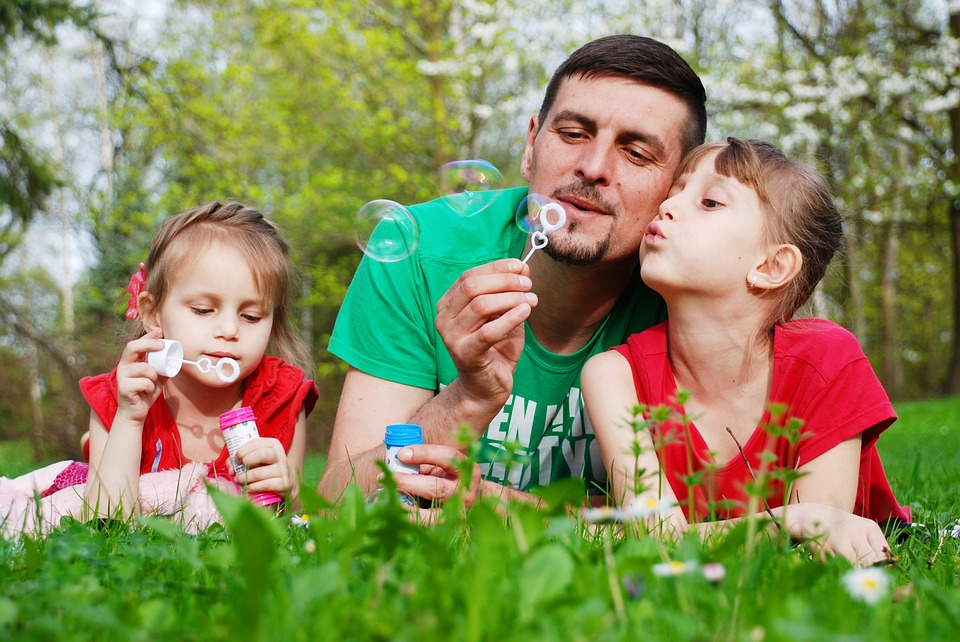 9. Fly a kite: Make your own or buy a kite and enjoy kite flying at your local park.
10. Go camping: Pack your sleeping bag, marshmallows and go camping. For younger kids, you can do this in the back garden
11. Ride a bike: Riding a bike is a good exercise with the abundance of fun. take your little one out and help them learn to ride a bike.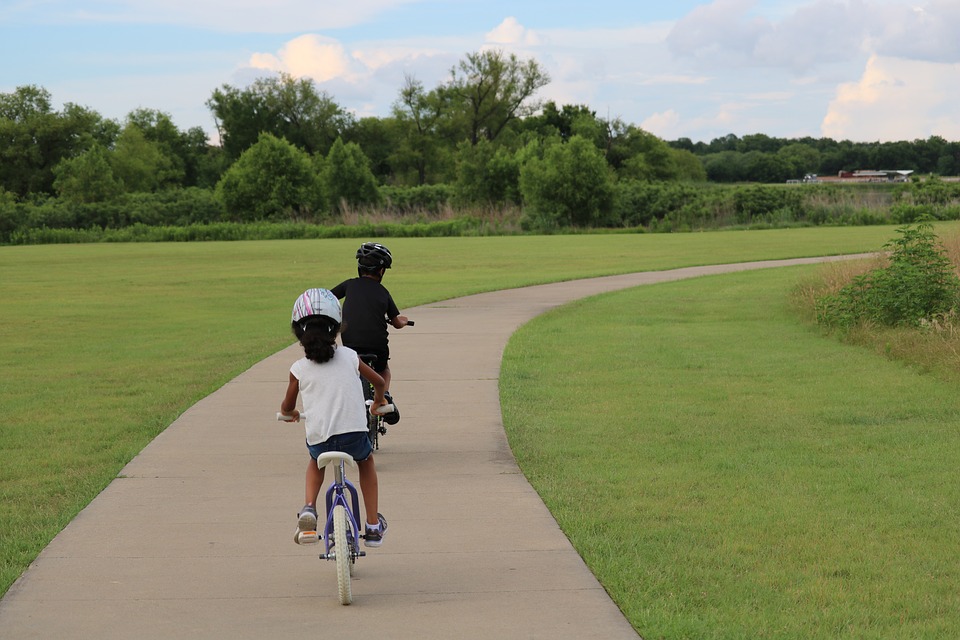 12. Read a book to your sibling: Head over a silent corner in the house and read your favourite book to your younger sibling.
13. Stargaze at night: Invite friends and family and enjoy stargazing. Looking at the stars when the sky is clear, is great fun. See if you can spot some connections or shapes in the sky.
14. Host a food party: Plan a BBQ or a healthy eating food party at home for your friends.
15. Enjoy a wet play: Make your garden a fun water park with a sprinkler or go to a  water park
16. Play a board game: Play monopoly, scrabble or any other board game with your friends or siblings.
17. Visit a new park: Kids get bored visiting the same park over and over again. Take them to a new park, let them burn their energy while socializing with new people.
18. Grow flowers and vegetables: Growing flowers or other plants is a great way of teaching your kids how to take care of plants. The kids will feel wonderful when they will see their first flower bloom.
19. Cook something for your family and friends
20. Do a fun science experiment: Let the kids do a simple science experiment. Make science fun with these wonderful science experiments.
21. Go fishing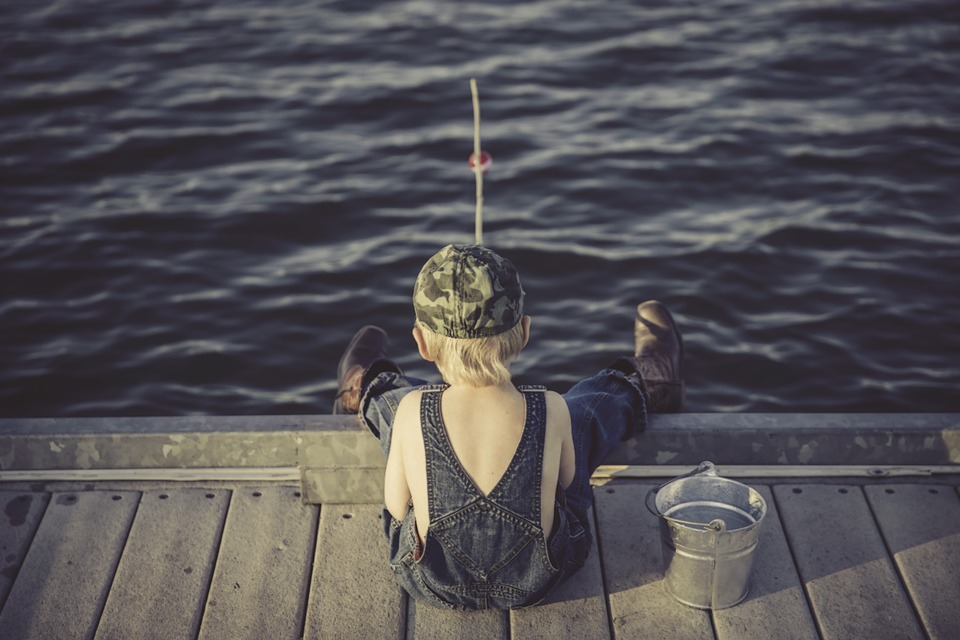 22. Go for minibeast adventure: Give your little one's magnifying glass and let them find bugs around your garden or local park.
23. Write a dairy: Start writing a daily diary entry, store your beautiful summer moments to cherish them again and again.
24. Build something new with your Lego blocks: Get creative! build something new and exciting with your lego blocks.
25. Play with playdough, clay or slime: Make your own play dough or slime. Its great way to teach kids measuring and reading scales, afterwards kids and enjoy playing with them.
26. Start your summer journal:
27. Play mini golf: Take children on an adventure with a bite, challenge them to survive multiple holes. Give them a day like no other!
28. Feed a bird or squirrel: Get bread or nuts and feed the birds and squirrels. Experience how
28. Make music with your own instruments: Grab boxes, spoons and plates and start making your own music or even host your own concert outside in the garden.
30. Solve a riddle: Grab riddle book or write your own riddle for your friends. It's a wonderful brain game.
31. Take part in summer reading challenge: Reading is a great way to keep children challenged throughout summer. Summer reading challenge runs every year. Children need to register at their local library and finish 6 books to complete the challenge. The children will get rewards along the way.
32. Take part in young writers competition: Have a look at new competitions at the young writer's competition. Let kids participate in competitions and win cool prizes.
33. Paint your flower pot: Give children chance to paint their own flower pots with the colours they like.
34. Make your own lava lamp: Another simple science experiment that will love is making a lava lamp. Follow these steps to make your own beautiful lava lamp.
35. Write a letter to your friend with invisible ink: Children will love this experiment. Ask them to write a letter to your friend with lemon juice to make an invisible letter.
36. Host a sleepover: Invite your friends over to have a sleepover. Grab your board games and have fun with your friends.
37. Play hide and seek: Hide and seek is definitely great entertainment for children. Close your curtains, drop your blinds and enjoy dark hide and seek.
38. Build a fort with a large cardboard: Get a large cardboard from Sainsbury or Tesco for free. Start a fort project with cutting and painting your very own fort.
39. Have water balloon fight: Get ready with your water balloons for a  fun water fight. kids love playing with water in such scorching hot days.
40. Visit a zoo: Visit a zoo and learn about different animals, ocean species and bird. Many zoos have activities planned so make sure you check their website or inquire at the information desk.
41. Visit an aquarium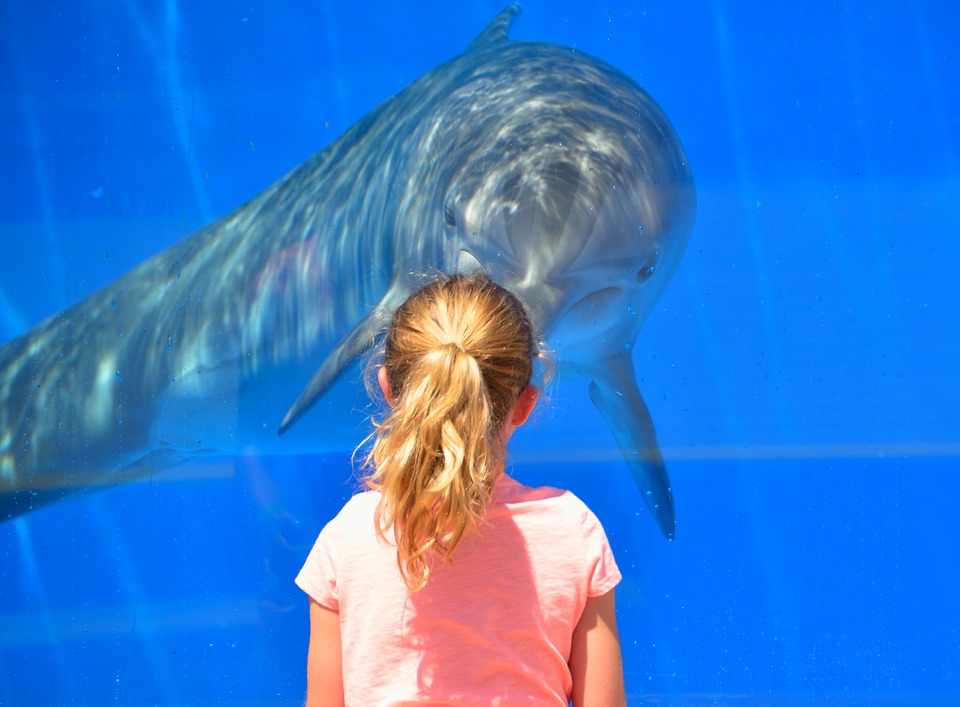 42. Feed ducks at the pond: Pick up a bread a head over the pond. see the ducks coming and enjoy picking small chunks.
43. Spend a day exploring the national park: The UK has 15 beautiful national parks. Support your nearby national park by visiting them this summer.
44. Play hopscotch: Get your chalks handy, build your hopscotch and start playing…
45. Build a sandcastle at the beach: Get your pail and shovel and head over to a beach nearby. Kids just love making sandcastles and smashing them with a bang.
46. Go for hiking: Find a place that offers easy hiking for children. Take your kids weekly and boost their confidence. Look at your local parks and trials to see which suits you most.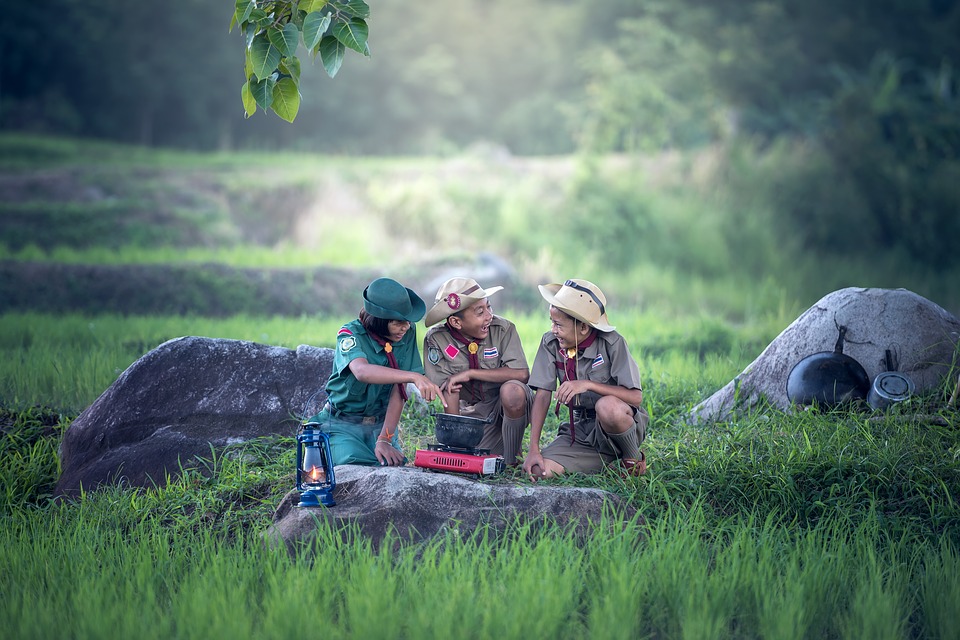 47. Start summer holiday scrapbook: Youngers kids love making their scrapbooks
48. Send a postcard: Make a postcard for your friends or family
49. Make a den: Bring your couches close, grab a blanket and make an indoor den. Read a book or play a board game with your friends in your wonderful indoor den.
50. Climb a tree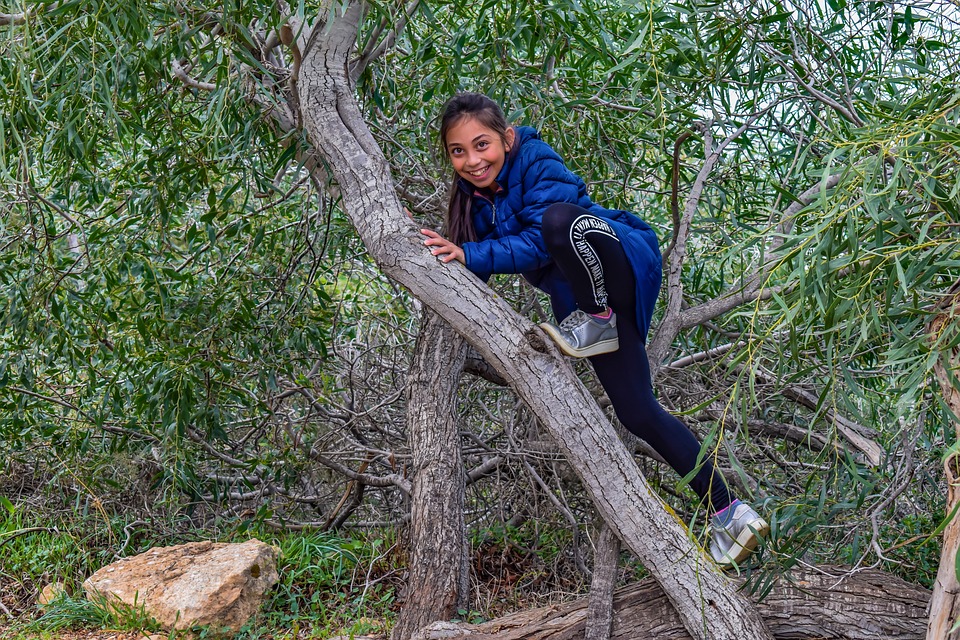 Free summer holiday planner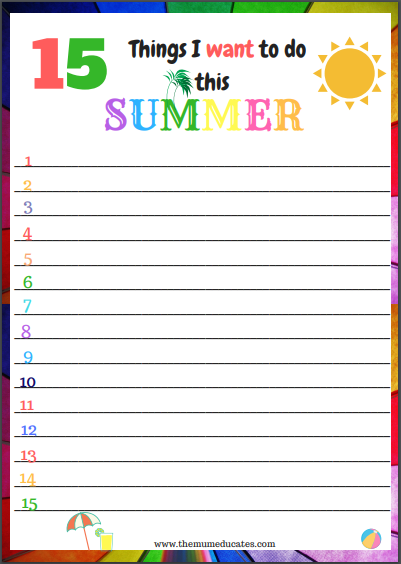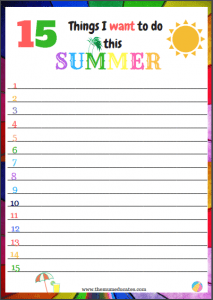 15 Things I want to do this Summer
Use our fun and colourful summer activity planning sheet to let kids write their plans for the summer holidays.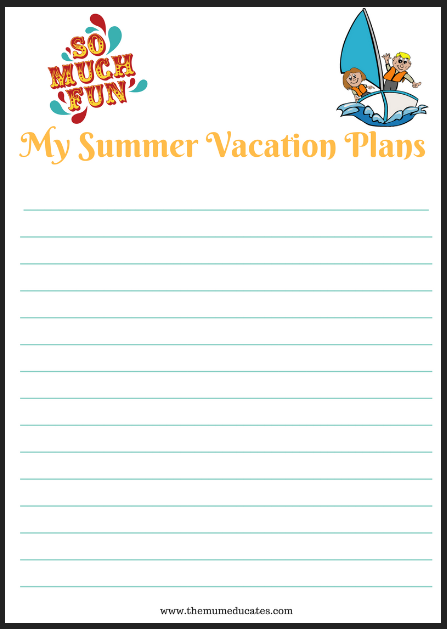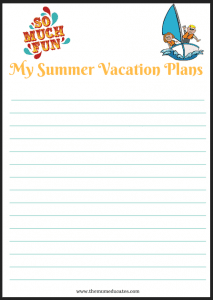 Let your little one think and write something that they would love to do this summer. it is a wonderful activity for little brains. Once done help stick in up on the fridge and start ticking the activities as you go.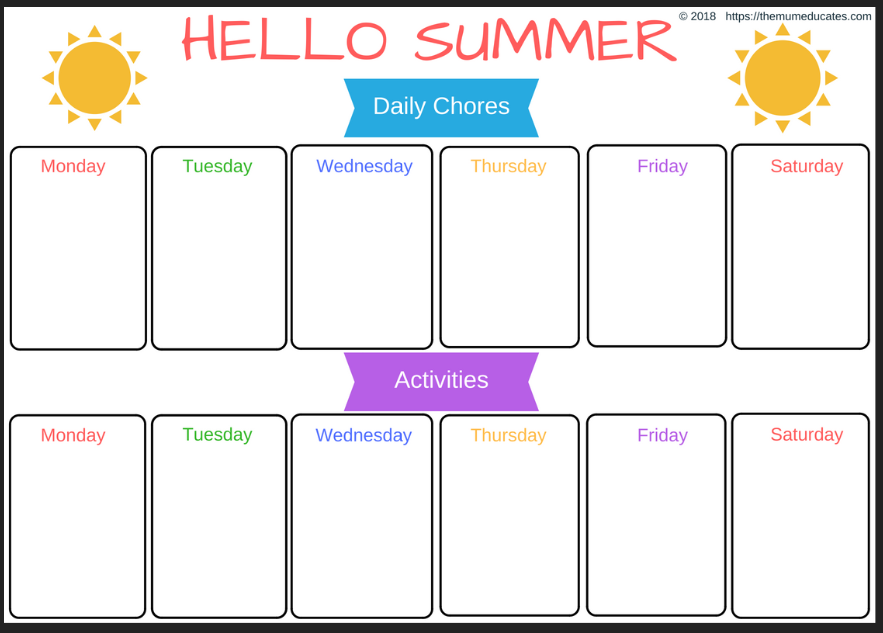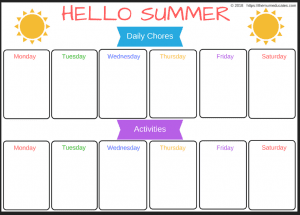 Download our useful summer holiday planner (Mon-Sat) that will help you assign chores to kids and plan activities on weekly basis.  Print now and plan your holidays beforehand.