Summer holidays are finally here and the challenge for parents is big. No doubt six weeks is a long time to keep kids entertained and busy. Don't panic! To help the holidays fly this year we have created a list of 50 fun-filled summer activities for kids.
From horse riding to water games, kite flying to fishing we have got everything you need to keep young ones entertained while making wonderful memories. Keep reading the article and get ready to fill summer 2019 with plenty of new activities and skills.
Plus, we have made free weekly holiday planner that will make it even easier to plan summer activities for kids.
Related: Fun Summer Holidays Spelling Activities for KS1 Kids
50 Fun Summer Activities for Kids 2019
Meet a friend: Call your friend and plan a meetup either at your house or at a local park.
Arrange a garden party: Why not arrange a garden party and play some amazing fun games with your friends. Have a look at some fun outdoor games you can play in the garden.
Bake a cupcake with your mummy: Time to entertain little kiddos in the kitchen. Cupcake baking is a simple yet amazing fun activity that children enjoy. Have a look at this super simple cake baking recipe by BBCGoodfood. 
Visit a library: Visiting a library doesn't mean you only have to read a book. Libraries host plenty of fun activities like story time, games club, rhymes songs, educational computer games and many more.  Find your local library at Gov.uk and check what they are offering this summer.
Go for a bike ride: Children love riding bikes so why not take them for a ride to your local park or outside your home. Riding bike is fast and fun, also its great physical activity and improves child fitness.
Have a picnic at your local park: Children love having a picnic. To make this more fun and interesting pack yummy healthy snacks and invite a friend over.
Plant a flower or vegetable: Brighten up your garden by planting beautiful flowers and vegetables this summer. Planting is a great activity to teach kids how the life cycle works.
Go for a horse ride: Make the most of summer by taking children for horse riding. Book today for a simple horse ride or a session of lessons at riding school near you.
Trip to a farm: Enjoy a fun packed day on a beautiful summer day. Visit a farm to see animals, pick fresh vegetables or fruits. It's also an amazing activity to teach children about where their food comes from. Farms normally host lots of activities during summer time so check your local farm website to make most out of your day.
Go camping: Pack your sleeping bags! Go camping at a local campground and roast marshmallows while you tell stories to your children and sing campfire songs with them.
Visit a beach: Pack your picnic bag, get your shovel and spade, and head to a beach near you. Sit on the sand, make sand castles or even swim in the sea. Don't forget your sunscreens.
Make a tent: Move your couches and put blankets and sheets on to make a tent. Read a book, eat a snack or play a game while relaxing in your own tent.
Fly a kite: Kite flying is a fun activity that every child enjoy regardless of their age. The thrill of watching their kite soar high in the sky makes it even more worthwhile.
Play mini golf: Mini golf is fun for the whole family. Have a look at your nearby mini golf centre and plan a day full of fun. It's sure to be a great time everyone will enjoy!
Plan a Treasure hunt: Pack small treats or toys with plenty of clues around the garden with some over branches and few under the ground.
Make your own play dough: Rather than buying pots of playdough, making your own playdough is far cheaper. Playdough is a great hands-on activity that children enjoy. With this awesome recipe, you can make playdough in no time and it will last for more than 6 weeks.
Make your own DIY bird feeder: The bird feeder is an amazing of teaching children about different birds and nature. All you need is a toilet paper roll spread with peanut butter all rolled up in birds seeds, Volla! You have your very own bird feeder. Hang it on a tree branch and watch different bird enjoying their food.
Play DIY sponge ball bombs: DIY sponge ball bomb is a fun activity for a hot summer day. All you need is plenty of colourful sponges all soaked in waters. Kids will love soaking and tossing colourful sponge bombs for hours.
See a firework display: See the night sky light up with beautiful colours and interesting shapes. Fireworks are cherished by both kids and adults.
Learn swimming: Book free-swimming lessons at Swim Safe. let your child learn how to stay safe in and around open water.
Watch a movie: Let kids imagination run wild with awesome movies this summer. Take them to watch a movie at ODEAN, VUE or Cineworld with prices as low £2.49.
Play a board game: On a hot summer day look for something to play inside. Gather the family together around the kitchen table and play a few rounds of your favourite card game
Watch an amazing kids documentary: The documentary movies are fun and educational. Show kids how the world works or about animals with this amazing list of documentaries for kids. 
Do a fun science experiment: Kids love doing science experiments. Have a look at these amazing fun and simple science experiments and try one this summer.
Plan a water balloon fight: Fill a bunch of balloons with water, place them in a bucket, finally let the water fight begin.
Feed the ducks: Children love feeding ducks and watching them quacking while dipping their head in and out of water.  Take rice, corn, lettuce or grapes and head over to your local park to feed the hungry ducks
Go on a nature walk: Get your magnifying glass and head over to the local park. Watch how kids discover and inspect insects, leaves, rocks, dirt, grass, and more.
Visit a new park: Take children to a park where they have never been. Children love exploring new places. Also, have a look at the list of 15 UK national parks and plan a visit for breathtaking landscapes.
Blow bubbles: Blowing bubbles is kids all-time favourite. They love to blow, chase and pop bubbles. Make your own bubbles with washing liquid and water.
Go on a boat ride: Check your local parks or lakes that offer boat ride. Children love going on boats and exploring the area around them.
Take paddling pool out: On a hot day, take the paddling pool out. With water add bubbles, glitter and small toys to make it even more interesting.
Back garden obstacle course: Use noodles, chairs or even balloons to make an obstacle course for your children. To make it super cool turn on the sprinkler.
Make your own slime: Slime is a super fun activity to do at home and once you master how to make it there are thousands of different types slimes you can make. Why not try this simple slime recipe at home this summer.
Go fishing
Keep a summer journal: Keeping summer journal is an awesome way to keep kids writing during holidays time. It helps with their writing and keeps them busy. Let them record all the wonderful things they get up to in this wonderful summer journal.
Visit a local zoo: On a nice sunny day why not pack up the family in the car, and head on over to the zoo. Check your local zoo for other amazing activities for kids they are offering during summer time.
Paint or draw a picture: Get some inexpensive paint brushes and a big roll of paper. Let them paint or draw whatever they like.
Stargazing: Pick up blankets and lay outside with friends and family and enjoy stargazing. Looking at the stars when the sky is clear, is great fun. See if you can spot some connections or shapes in the sky.
Build a hedgehog home: Create a cosy home for a hedgehog with this amazing DIY project by Woodland Trust. 
Go bowling: Too hot to handle. Head over to the local bowling place. Eat, drink and bowl while making some wonderful memories.
Host a sleepover: Sleepover is the most exciting and fun thing we have done when we were kids. Plan one for your kids today. Make it more interesting by choosing a fun theme for your sleepover night like prince and princesses theme, jungle theme or pop star day.
Play dress up: Kids loves dressing up. Let your child use their own imagination to design their dress or even dress like their own favourite character.
Go hiking: Getting out as a family is very important, not only it has lots of health benefits but also helps children learn new things and broaden their horizon. Look for easy hiking trails at All Trails and off you go for a wonderful day.
Experience sunset: Either on the beach or any local place that has high grounds, let children experience the stunning colours of a sunset. Summer can't get any beautiful than that.
Make fruit salad: Wash and cut some fruits to make a mouth-watering fruit salad. Remember to take extra care while using sharp knives and scissors.
Wash a car: Fill a bucket with water and soap. Give sponges to the kids and let them have fun while washing the car. It a fun-filled activity for children and you will get a sparkling clean car. Win-Win!
Have a BBQ at a park
Make your own ice cream: Why not make your own ice cream at home. This ice cream making is my kids favourite and its Best Buy by "Which?" Magazine.
Make your own video: Take an old camera and start shooting video. Make a video of your friends and family or even while visiting any place.
Play hide and seek: Rainy Day! Don't worry, we got an idea for you. Hide and seek is fun and always hit among children.
So there you have it!
My full list of 50 fun summer activities for kids 2019. Hopefully, you've found some activities on this list that sounds interesting. Let me know if you try any of them.
What are your favourite summer activities for kids? Let us know in the comments box below and we can add them on this list.
Free summer holiday planner: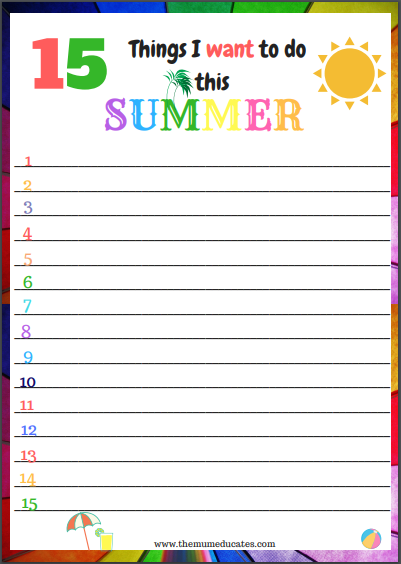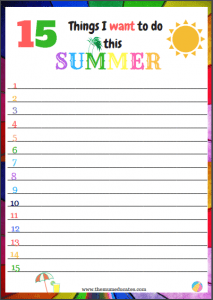 15 Things I want to do this Summer
Use our fun and colourful summer activity planning sheet to let kids write their plans for the summer holidays.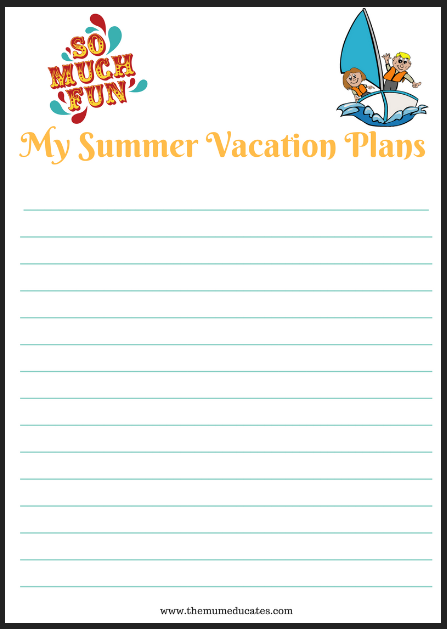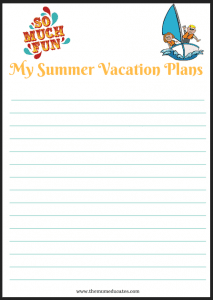 Let your little one think and write something that they would love to do this summer. it is a wonderful activity for little brains. Once done help stick in up on the fridge and start ticking the activities as you go.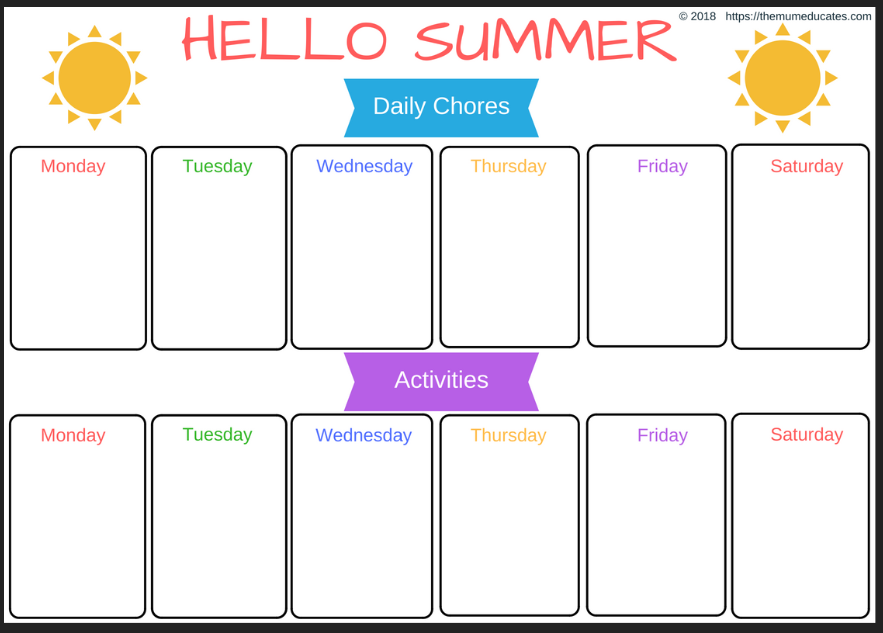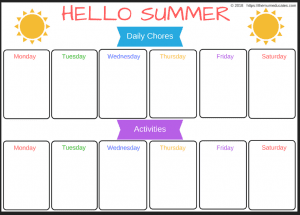 Download our useful summer holiday planner (Mon-Sat) that will help you assign chores to kids and plan activities on a weekly basis.  Print now and plan your holidays beforehand.