Summer holidays are approaching fast. It's an excellent time of the year for kids to explore, experiment and express their thoughts with the help of various fun activities.  Summer writing is one such activity, which provides them with the opportunity to describe their observations and feelings on a piece of a paper in a casual way. We have made 30 day Summer Writing Challenge for your students.
I always encourage and support my kids to write and highly recommend that you get your kids involved in this fabulous summer writing challenge and ask them to think freely and help them in arranging their thoughts.
This summer activity will help the children of all ages to learn more about themselves, and sometimes it also helps the parents to understand the feeling, likes and dislikes. Besides this, it's the best creative approach to keep your child's school skills sharp!
Related: Summer Reading Bingo + Free Printable
30 Day Summer Writing Challenge:
Download your free printable by clicking the image below.
Download U.S. English version Here
The 30 days summer writing challenge include:
Make a bucket list of things you want to do this summer.
Write about the last week of school.
Write a poem about summer.
Write a book review of your favourite book
Write a hilarious poem.
Write a new ending for a book you read today.
Write your life story.
Write a description of a garden using five senses.
Write about a new exotic fruit you tasted this summer.
Write about your favourite children's book author.
 Write about a favourite character you read in the book.
Write interesting facts about summer.
Go for a walk. Write five sentences about the walk you went on.
Write what you did on a rainy day.
Write about a picnic.
Write about a magic lamp you found in the woods.
Write a shopping list for your parents.
Write about the beach you went this summer.
Write a scary story.
Write about the worst holiday of your life. Explain why.
Write about your favourite water game or activity.
Write a summer song.
Write about your favourite sport.
Write under the stars.
Write a letter to your friend or family.
Write swimming instructions for your younger sibling.
Write a recipe of your favourite food.
Write in your playhouse
Write a mystery story.
Write about what you want to achieve in your new class.
Related: Fun Summer Holidays Spelling Activities for KS1 Kids
Certificate of Achievement:
The certificate below is designed to reward students who successfully complete the Summer Writing Challenge.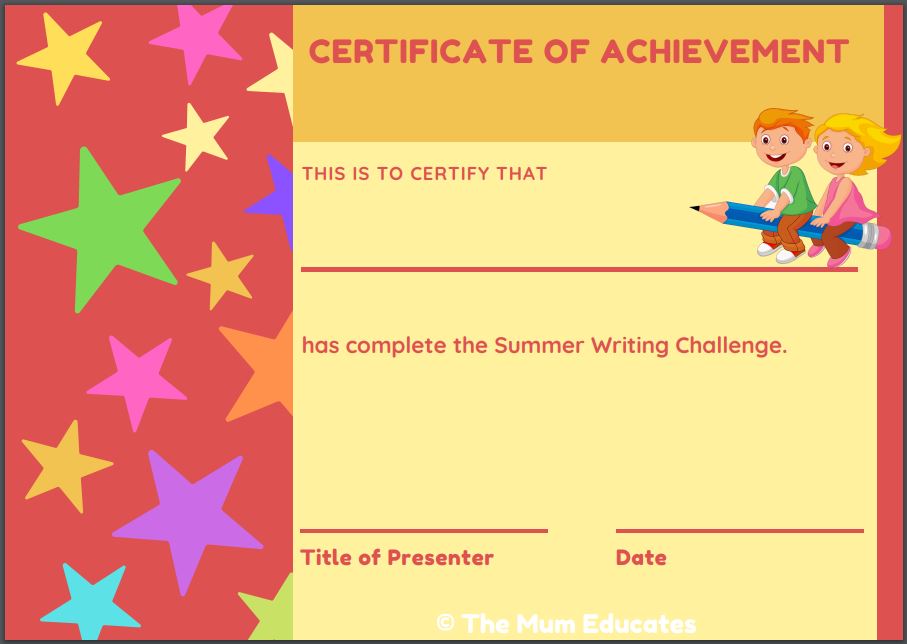 Which writing activity your child enjoyed the most? Let us in the comments below.
If you liked our summer writing challenge please share it on Facebook or Pinterest.
For more wonderful books and resources visit our store.