With COVID-19 around, millions of children are stuck at home with no physical activity. Parents are super worried as they are running out of ideas that can keep children busy and active.  But worry not! We have made fun 30-day fitness challenge for kids that will keep them active and healthy during the coming weeks.
We are in 6th week of lockdown, its indeed very tough time. Thinking about exercise, play centres or taking children to park is near to impossible. To make children burn their energy and staying active we have made a 30-day fitness challenge that is full of fun physical activities that children will surely love to do.
Research suggests that doing exercise not only helps kids stay active and healthy, but it also impacts positively on their learning skills and keeps them happier and socially engaged. Our kid's fitness challenge will make exercise so much fun that kids won't even feel that they are working out.
If your child manages to complete this challenge, see if they can complete another one. Read More: 30-Day Art/DT Challenge for kids – Activities
30-day Kids Fitness Challenge:
Download the free printable by clicking on the link below and save the PDF file.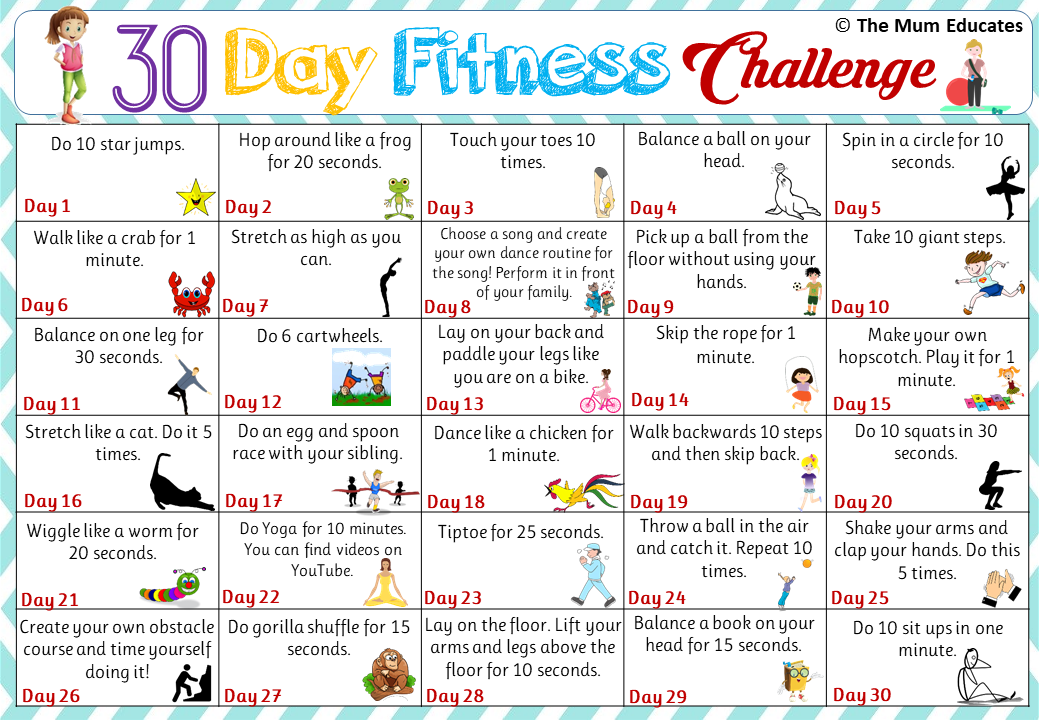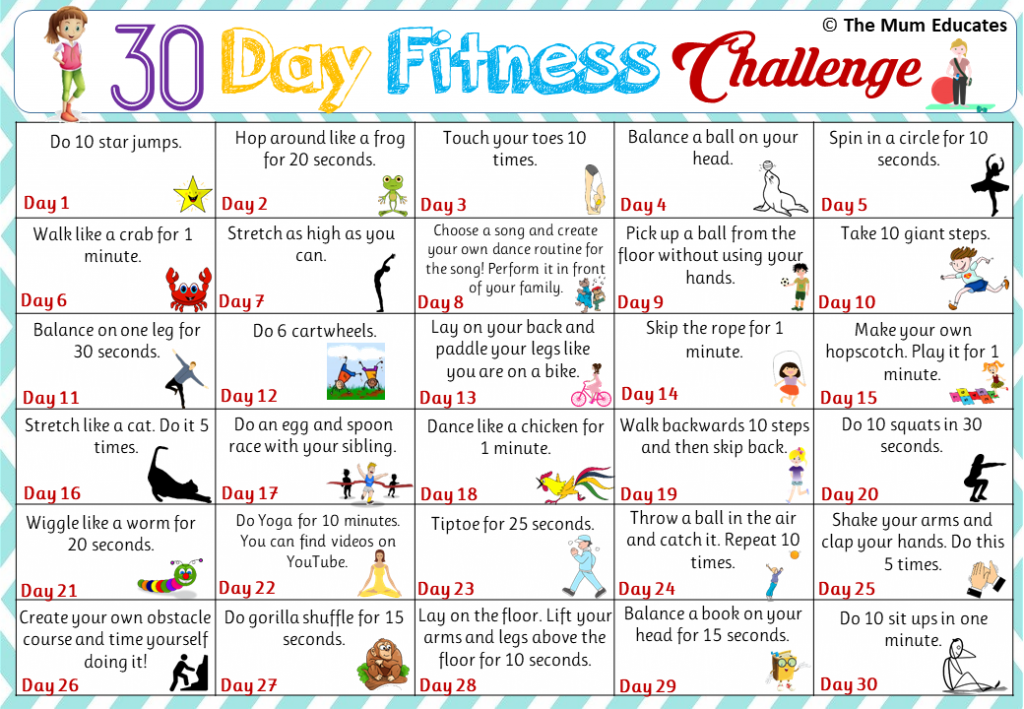 The challenge includes:
Do 10 star jumps.
Hop around like a frog for 20 seconds.
Touch your toes 10 times.
Balance a ball on your head.
Spin in a circle for 10 seconds.
Walk like a crab for 1 minute.
Stretch as high as you can.
Choose a song and create your own dance routine for the song! Perform it in front of your family.
Pick up a ball from the floor without using your hands.
Take 10 giant steps.
Balance on one leg for 30 seconds.
Do 6 cartwheels.
Lay on your back and paddle your legs like you are on a bike.
Skip the rope for 1 minute.
Make your own hopscotch. Play it for 1 minute.
Stretch like a cat. Do it 5 times.
Do an egg and spoon race with your sibling.
Dance like a chicken for 1 minute.
Walk backwards 10 steps and then skip back.
Do 10 squats in 30 seconds.
Wiggle like a worm for 20 seconds.
Do Yoga for 10 minutes. You can find videos on YouTube.
Tiptoe for 25 seconds.
Throw a ball in the air and catch it. Repeat 10 times.
Shake your arms and clap your hands. Do this 5 times.
Create your own obstacle course and time yourself doing it!
Do gorilla shuffle for 15 seconds.
Lay on the floor. Lift your arms and legs above the floor for 10 seconds.
Balance a book on your head for 15 seconds.
Do 10 sit-ups in one minute.
Related: 30-day Summer Writing Challenge
For more amazing free resources, like and share our Facebook page and also follow us on Pinterest.
For more wonderful books and resources visit our store.


My Amazon picks:
The Mum Educates is a participant in the Amazon Services LLC Associates Program, an affiliate advertising program. As an Amazon Associate, I will earn some amount from your qualifying purchases.