Homophones are words that sound same but have different spelling and meaning. Children often find them tricky to remember. Our in detail Year 3/4 Homophones product will make learning homophones fun and easy for your children. The beautiful pictures and wonderful illustration will help children memorise the homophones better.
Scroll down for a free Sample Flashcards!
*This is a digital file. A physical product will not be shipped.
£2.49
Related: Year 2 Homophones Bundle
What are homophones?
Homophones are the words that sound same but have different spelling and different meanings. This means that chances are high that the children will mix up some of the words at some point in their reading and writing.
Example:
Peace (no fighting or war)
Piece (a part of something – like a cake or a pizza)
Why is it important to learn homophones?
Teaching homophones widen children vocabulary, enhance their comprehending skills and help them in spelling. Homophones are very important for children to learn properly and remember them. What happens if you use homophones wrong? You could end up having sentences that don't make any sense.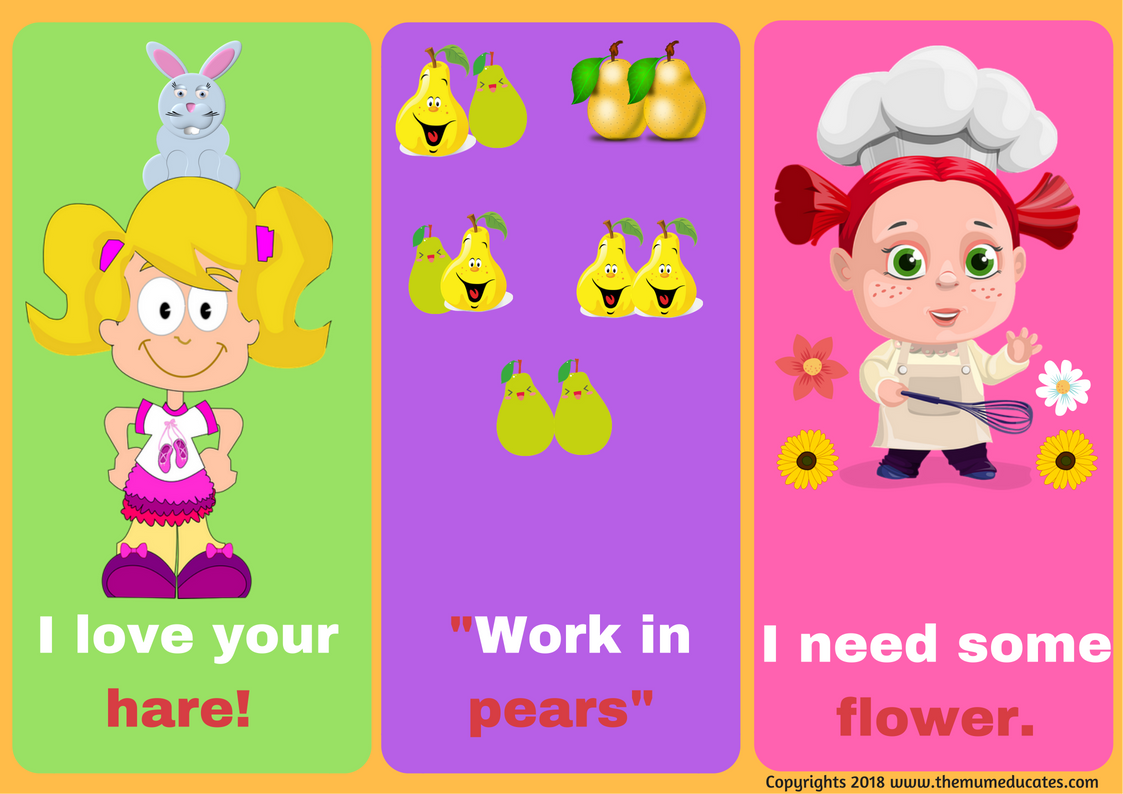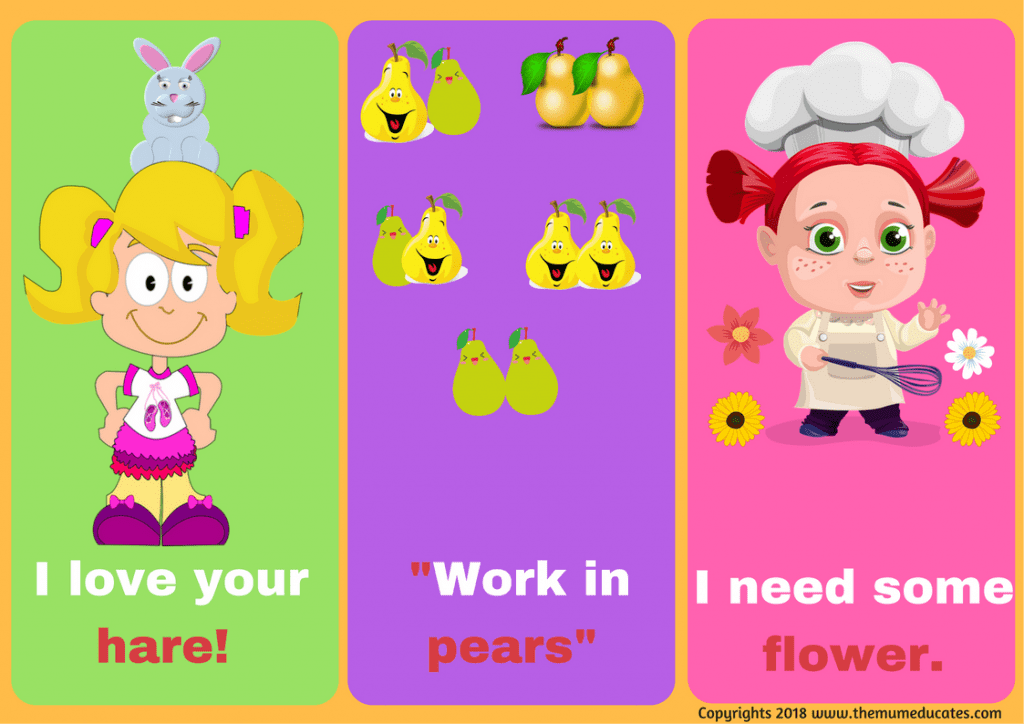 Which homophones are taught in Year 3/4?
Year 3/4 children have to learn a list of homophones under the national curriculum. These are the spelling your Year 3/4 children have to learn to meet their national curriculum guidelines.
accept/except
affect/effect
ball/bawl
berry/bury
brake/break
fair/fare
grate/great
groan/grown
here/hear
heel/heal/he'll
knot/not
mail/male
main/mane
meat/meet
medal/meddle
missed/mist
peace/piece
plain/plane
rain/rein/reign
scene/seen
weather/whether
whose/who's
Product description:
What is included:
Homophones will no more be a fuss to learn with our amazing flashcards. This is a pack of Homophones Flashcards, Word mat, Bookmark and Worksheets to practice and learn homophones.
There are a total of 99 flashcards. Practice with flashcards, print the word mat to help them in their writing and finally practice with our 3 wonderful worksheets.
homophones flashcards:
Along with all the Year 3/4 flashcard, the pack also contains extra flashcards including:
hair/hare
flower/flour
sale/sail
tow/toe
whole/hole
due/dew
wait/weight
die/dye
dear/deer
air/heir
lie/lye
road/rode
which/witch
raise/rays
stair/stare
root/route
bored/board
sent/cent/scent
steal/steel
check/cheque
bail/bale
boy/buoy
slay/sleigh
read/reed
desert/dessert
you/ewe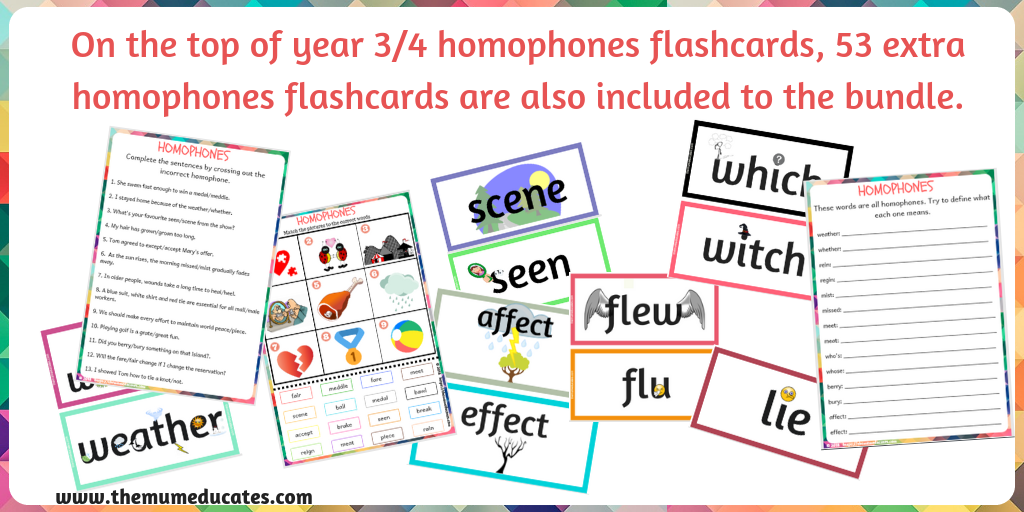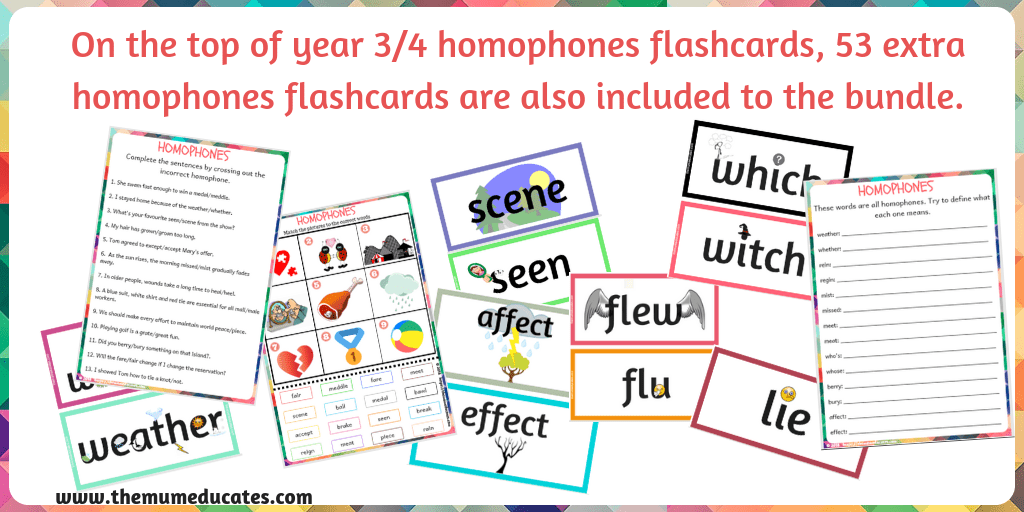 3 Homophones Worksheets:
The pack also includes associated worksheets which will help the children revise what they have learned through the flashcards. This combination of learning and revising will firmly cement these words into the minds of the students.
2 Homophones Words Mat and 3 Bookmarks:
Two-word mats are also included in the pack. One word mat is with pictures which makes it easier for the children to understand the differences between the homophones whereas the other word mat has only text for higher level kids. Useful bookmarks are also included.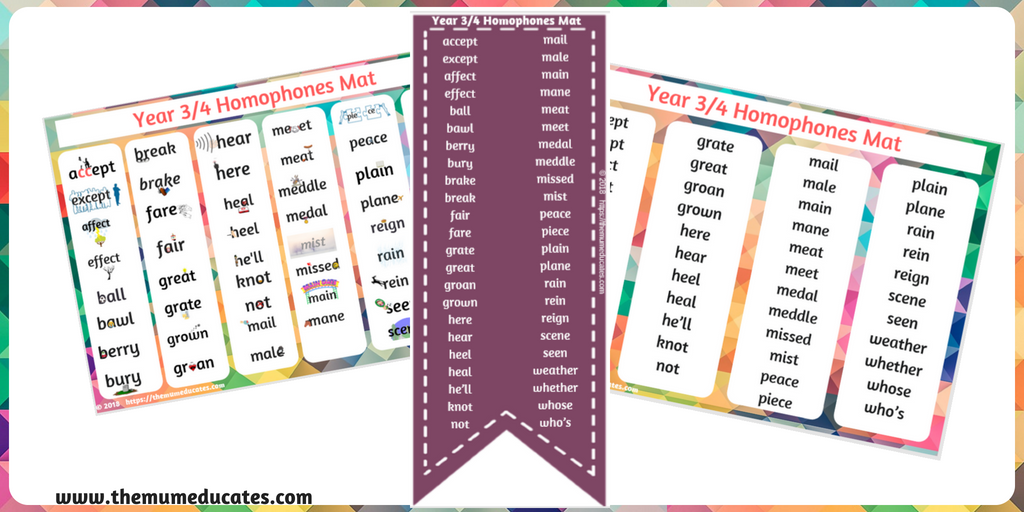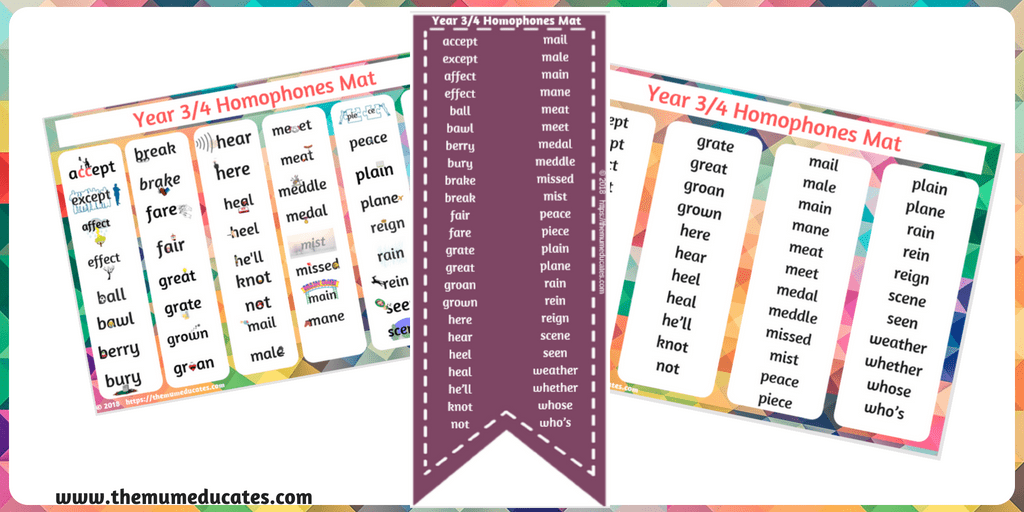 Download free sample flashcards: