Winter is approaching and cold days are finally here! With temperatures dropping and lockdown clutching us, it is better to stay under our roofs. So are you ready for some learning while having plenty of fun? To make learning fun we have made a fantastic 30-day winter writing challenge.
Get into the winter spirit with this fantastic freebie. Simply click on the image and download the pdf file.
Related: 50 Kids Educational Activities to do at home while schools are closed
Once kids finish this challenge why not ask them to take part in our other amazing 30-day challenge. Check our most popular 30-day Life skills challenge which will help children learn key life skills.
30-day Winter Writing Challenge:
Download the free printable by clicking on the link below and save the PDF file.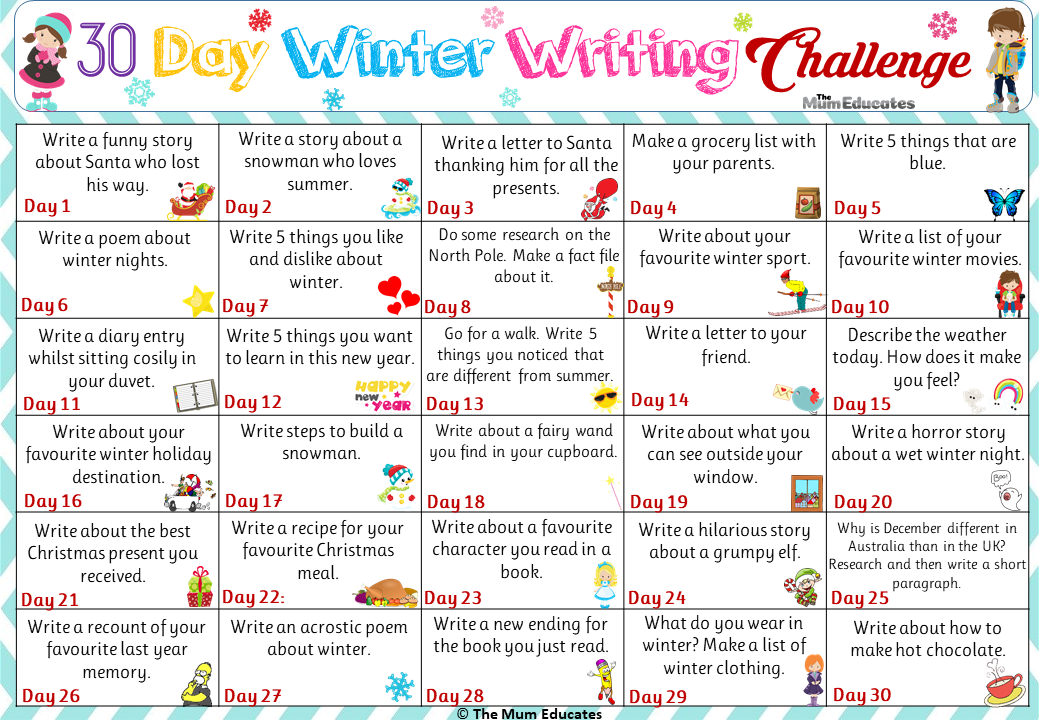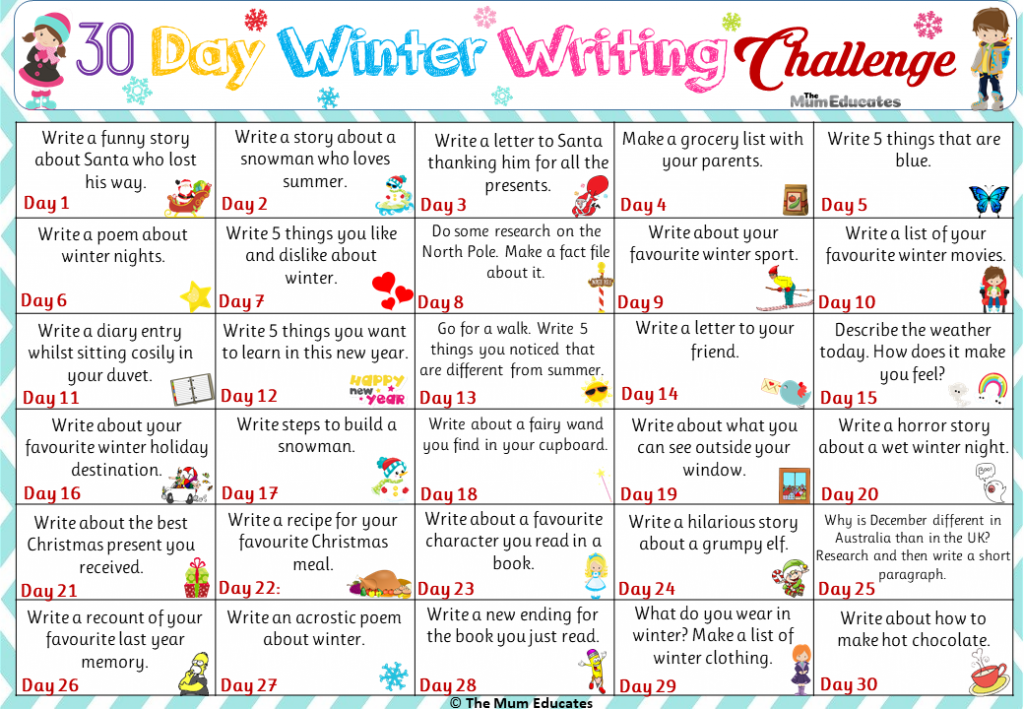 The challenge includes:
Write a funny story about Santa who lost his way.
Write a poem about winter nights.
Write a story about a snowman who loves summer.
Write 5 things you like and dislike about winter.
Write 5 things you want to learn in this new year.
Write about your favourite winter holiday destination.
Write a diary entry whilst sitting cosily in your duvet.
Write about the best Christmas present you received.
Write a recount of your favourite last year memory.
Write a story about a snowman who loves summer.
Write steps to build a snowman.
Write a recipe for your favourite Christmas meal.
Write an acrostic poem about winter.
Write a letter to Santa thanking him for all the presents.
Do some research on the North Pole. Make a fact file about it.
Go for a walk. Write 5 things you noticed that are different from summer.
Write about a fairy wand you find in your cupboard.
Write about a favourite character you read in a book.
Write a new ending for the book you just read.
Make a grocery list with your parents.
Write about your favourite winter sport.
Write a letter to your friend.
Write about what you can see outside your window.
Write a hilarious story about a grumpy elf.
What do you wear in winter? Make a list of winter clothing.
Write 5 things that are blue.
Write a list of your favourite winter movies.
Describe the weather today. How does it make you feel?
Write a horror story about a wet winter night.
Why is December different in Australia than in the UK? Research and then write a short paragraph.
Write about how to make hot chocolate.
Be a part of our other amazing challenges:
For more amazing free resources, like and share our Facebook page and also follow us on Pinterest.
For more wonderful books and resources visit our store.


Recommended books to read over the summer holidays:
The Mum Educates is a participant in the Amazon Services LLC Associates Program, an affiliate advertising program. As an Amazon Associate, I will earn some amount from your qualifying purchases.